2021-2022 Catalog
[ARCHIVED CATALOG]
Academic Programs
---
Program of Study Options
East Central College offers students five degree options: the Associate of Arts (AA), the Associate of Applied Science (AAS), the Associate of Arts in Teaching (AAT), the Associate of Fine Arts (AFA), and the Associate of Science (AS). These degree choices afford students a variety of options based on their academic interest and career choices.
Program Career and Salary Information
Pursuant to Missouri HB 1606 (2018), information regarding the number of credit hours, program length, employment rate, wage data, and graduates employed in careers related to their program of study at East Central College can be found at https://scorecard.mo.gov/scorecard/. Search using School / Program "East Central College" and choose the degree or certificate of interest.   
The General Education Requirements for the Associate of Arts Degree
East Central College offers a 42 hour general education block of coursework that satisfies the Missouri Department of Higher Education General Education Core 42 Transfer model.  In meeting this standard, students graduating from ECC with an AA degree and transferring to a public baccalaureate institution in Missouri will enter the transfer institution at the junior level and will have satisfied the lower division general education requirement. Students completing their AA degree and transferring to public baccalaureate institutions are assured full acceptance of the general education coursework.
A student is required to demonstrate skills in each of the following Knowledge Areas listed below:
Written Communication
Oral Communication
Mathematical Sciences
Natural Sciences
Social and Behavioral Sciences
Humanities and Fine Arts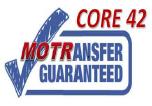 Associate of Arts
Associate of Applied Science
Associate of Arts in Teaching
Associate of Fine Arts
Associate of Science
Certificate of Achievement
Certificate of Specialization
---