The General Education Requirements for the Associate of Arts Degree:
East Central College offers the Missouri Transfer Guaranteed Core 42 General Education block of coursework that satisfies the Missouri Department of Higher Education general education model. In meeting this standard, students graduating from ECC with an AA degree and transferring to a public baccalaureate institution in Missouri will enter the transfer institution at the junior level and will have satisfied the lower division general education requirement.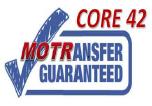 Pathways
Students are assigned an academic advisor and are encouraged to meet with their advisor often.  When a student has determined a major and career interest, academic advisors will guide them to one of ECC's Pathways  based on their intention.  The Pathway shows the general education and other course recommendations that will best prepare students for future sucess.
If you are undecided about your major or field of interest, but you know you want to transfer and earn a bachelor's degree, or if you are considering a career program, we can suggest possibilities for your first semester of college to help you decide.
The Associate of Arts pathways are some general suggestions of courses to complete general education and elective requirements: